Industrial Efficiency
The digital green industry is a growing trend nowadays due to increasing consumer demand for sustainable and environmentally friendly products and services. This type of industry has revolutionized the way companies produce and offer their products and services. Digitalization has enabled greater production efficiency, reducing costs and environmental impact. In addition, it has facilitated the creation of more sustainable products and solutions and increased the transparency and traceability of the supply chain.
Furthermore, it has fostered innovation, enabling companies to develop new solutions and technologies to address environmental challenges. In short, the digital green industry has opened up new opportunities for companies looking to improve their sustainability and lead the fight against climate change. Above all, it is the path to a more sustainable and prosperous future for all.
Digitalization and Industrial Efficiency
At Amper, we offer supply of management systems and decision support solutions through Industry 4.0 technologies, such as cloud computing, Artificial Intelligence and Advanced Analytics. These solutions are based on hardware and IoT software, and are designed to optimize production, improve energy efficiency, reduce maintenance downtime, and increase the lifespan of assets.
Moreover, we specialize in providing industrial process automation and robotics solutions, aimed at mechanizing production processes and enhancing accuracy and safety. We also offer remote management systems for GNP and GNL tanks, as well as perform installations to improve energy efficiency.
Digitization of Fluid Pressure Measurements
Amper has developed and patented an intelligent pressure gauge for predictive and corrective fluid pressure measurement. Monitoring any pressurized system is essential to maintain high performance and avoid installation failures. Our monitoring system not only provides real-time information, but is also a valuable tool to support preventive maintenance of facilities.
Our monitoring system reports alarms in real-time, allowing a quick response to any problem or emergency in the facility. In addition, thanks to the detection of leaks or overpressure, we can identify issues in the installation before they become costly failures.
Another important advantage of our monitoring system is that it optimizes routes for performing maintenance operations. This reduces facility downtime and ensures that maintenance is performed more efficiently and effectively.
Moreover, our monitoring system is available for ATEX zone installations, which means that it is safe and suitable for use in potentially explosive environments. In summary, our monitoring system for any pressurized system is a valuable tool for maintaining optimal facility performance and minimizing downtime. It provides early detection of problems, optimizes maintenance routes, and offers a rapid response to any emergency.
Amper is comprised of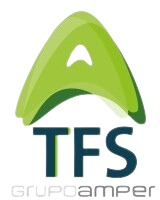 TFS is a company founded in 2016 and part of the Amper Group that has been created to provide unique products in the global market that enable total control of pressurised elements and installations. We hold three worldwide patents that support our innovative and cutting-edge technology.
At TFS, we work with various technologies, such as NB-IoT, LoRa, radio or NFC, for the communication and configuration of our equipment. We are the first global system capable of remote control and maintenance through our mobile application, which is possible thanks to the interaction of NFC technology. In addition, we have developed innovative and efficient solutions using digital and analogue sensors, allowing us to measure with high millibar accuracy.
Want to talk to a digital industry expert?